Winning Texas Holdem For Dummies!
Gives you a step-by-step formula for winning at all your poker games. And believe me, this poker book is different than any Poker books you've seen.
• You will understand all the rules, odds, and hand rankings for no limit Texas Hold em easily!
• YOU will dramatically reduce your bad beats and allow you to react appropriately when you do experience one.
• You will learn how to instantly size up hands, calculate pot odds, recognize tells and identify bluffs.
• You will discover some sneaky strategies to intimidate other players and force them to fold cards.
Dominate Online Poker Course
The Dominate Online Poker Course prepares you for the future online poker world by taking a fully modern approach to online poker. Become a winner in the modern era of online poker.
An introduction into winning online poker philosophy and a look into the future;

Thrilling Online Cash Game, Sit and Go and Multi Table Tournament Tips and Strategies;

Expert Poker Systems, Courses and Offers.
How To Win Online Poker Tournaments
A foolproof system that will allow you to systematically add money to your bank, night after night.

The exact, step-by-step strategies that I use personally to consistently win games.

Discover how to play poker to win. You no longer need to be content with just being in the money.

The insider secrets that the online Texas Hold'em poker pros don't want you to know.

When you should play tight or loose, passive or aggressive.

Discover how playing against maniacs can be super-profitable!

The secret to not being knocked out on the bubble.

When to steal blindsfrom under other players noses.

When you absolutely must bet pre-flop.
If You Have The Discipline Then It's Time To
How To Play Online Poker As A Business!
Win More Pots Day After Day And Skyrocket Your Earnings Into $10,000′s a Month!

How To Keep From Losing Your Shirt And Instead Win The BIG Pots!

Exactly When And How To Bluff In An Online Poker Game /Tournament.

Develop An Advanced Level Of Mastery Over Online NL Texas Hold'em.

Master heads-up play and earn easy money at the tables!

How to read players in online poker just like an open book and steal

their money while they ponder about what just happened!

Gain A Competitive Edge With My Insider Online Poker Knowledge.
Phil Hellmuth Presents: Read 'Em and Reap: A Career FBI Agent's Guide to Decoding Poker Tells
by Joe Navarro, Marvin Karlins, Phil Hellmuth
NOOK Book (eBook)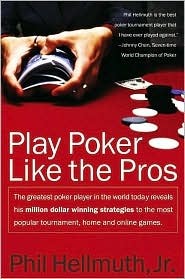 Play Poker Like the Pros
by Phil Hellmuth
NOOK Book (eBook)
Phil Hellmuth Jr. demonstrates exactly how to play and win.
According to Doyle
by Doyle Brunson
Learn what it takes to be a great poker player by climbing inside the mind of poker's most famous champion.
Book of Bluffs: How to Bluff and Win at Poker
by Matt Lessinger ,Mike Caro
NOOK Book (eBook)
An expert poker player and columnist for "Card Player" magazine shows how players at every level of the game can master the art of the bluff.
Doyle Brunson's Super System 1 and 2 Paperback Edition
This superstar lineup is led by Doyle Brunson, two-time World Series of Poker Champion, nine-time WSOP gold bracelet winner, and the greatest poker player of all time.
Win Your Way Into big Money Tournaments
Presented byTom McEvoy and Brad Daugherty
Tom McEvoy and Brad Daugherty, two world champions, show you how to win your way into tournaments. "McEvoy and Daugherty are two of the winningest satellite players in World Series of Poker history. They give you specific proven strategies for winning holdem satellites and earning entry into any tournament you want to play.
Phil Gordon is a professional poker player, commentator and author.
Ratings:
In Phil Gordon's Little Green Book, Gordon, a world-class player and teacher, shares his strategies, tips, and expertise on NL Texas Holdem. In his blue book he gives more lessons and hand analysis and shows you how to apply his theories. These books are highly recommended for every player looking to make a profit and raise his game to the next level.
var _gaq = _gaq || []; _gaq.push(['_setAccount', 'UA-30647174-1']); _gaq.push(['_setDomainName', 'pokerfaceit.com']); _gaq.push(['_setAllowLinker', true]); _gaq.push(['_trackPageview']);
(function() { var ga = document.createElement('script'); ga.type = 'text/javascript'; ga.async = true; ga.src = ('https:' == document.location.protocol ? 'https://ssl' : 'http://www') + '.google-analytics.com/ga.js'; var s = document.getElementsByTagName('script')[0]; s.parentNode.insertBefore(ga, s); })();