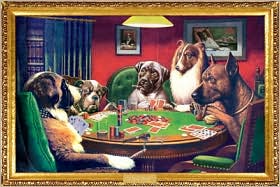 Knowing your opponent is another very important aspect of playing poker. The basic poker theory describes 4 types of players: tight/aggressive, Loose/aggressive, tight/passive, and loose passive. Passive players are those that do a lot of calling while aggressive players do a lot of betting. With poker experience and gaining valuable intuition, you will better be able to learn your poker opponents and what cards they are likely holding. It takes lots of hard work and skill to develop the knack for reading your opponents. If you are holding a pair of kk's and tight aggressive players call in position, knowing that your opponent would only reraise with jj or better and would only call from that position with ak or a small pocket pair is very advantageous information. It is a lot easier to fold those kk when you get reraised on a flop that comes 10 high with the possibility of being up against a set. It will definitely caution you in protecting your stack and or to keeping the pot small. That is when your intuition kicks in, and through its cumulative run of experience, it will aid you in making the right decision for the majority of the time. Knowing your opponent will help you in making decisions such as whether or not to call, to fold, or to re-raise, which will become an enormous factor in managing your bankroll.
---
Bonus: 150% up to $750
Reload bonus: deposit $100 you will receive a deposit bonus of $100 (*requirements)
Great Vip programs
Bad Beat Jackpots
Freeroll Tournaments from $50 to $50,000
---
US Friendly
Deposit Bonus:: Instant 25% cash
Reload:35% deposit cash bonus
Over $150K in Guaranteed Tournaments!
Tournament Bonus Guarantee:
Hit & Run Freerolls
Betonline there is always a cash game!
---
US Friendly
Bonus: 150% up to $750
Reload: 75% up to $375
$500 Freeroll – New Depositing Players
Bad Beat Jackpot
Ace-High VIP Program
---
US Friendly
Bonus: 110%p to $600
$500 deposit freeroll
Win a $16,000 Aussie Millions prize package
$60,000 Gold Club Tournament Series!
Reload Bonuses  are sent often
---
US Friendly
Bonus: 100% up to $600
CarbonPoker's VIP Rewards are the best in the business
Daily VIP Cashback Rebates
Exchange Points for Cash
Free Tournament Entry With VIP Points
TOURNEY KING  $20,000 in Prizes!
Bad Beat Jackpot
---
US Friendly
Bonus: 200%p to $1000
Redeem gold cards for cash
FPP races Top Frequent Player Point earners win cash prizes
$60,000 Gold Club Tournament Series!
Reload Bonuses
---
US Friendly
Bonus of 150% on your first deposit up to $750: Bonus Code: LOCK150
Freeroll you way to greatness. Lock Poker offers 9x $50 freeroll everyday.
SnG Leaderboard- Top 25 on the leaderboard will take home  cash.
Royal Flush Promotions
$100,000 Guarantee Tournament
---
US Friendly
Bonus: 150% up to $750
New Depositor's Freerolls
Daily Freerolls
Super VIP Freeroll
Guaranteed Tournaments